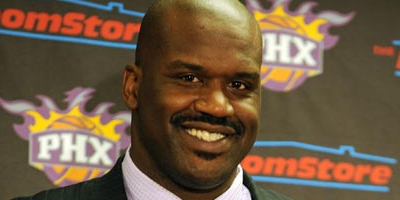 Shaquille O'Neal aka Big Brother Center No Love, has struck again and this time Joel Pryzbilla and Greg Oden got it. Pryzbilla got it in the form a ball being thrown at him and Oden got it in the form of a fast moving Hattori Hanzō blade of words, that never leaves the side of Shaq the Shogun.
No," Shaq said when asked if he could share about his conversation with Przybilla that landed them both T's."He said I threw the ball at him and I said, yeah. That's what I did. So what? Do something about it. I'm not much of a talker." When asked if he could receive a fine for admitting he "threw the ball" at Przybilla, Shaq quickly corrected himself.

"I didn't throw it. I dropped it. Hey, it doesn't matter to me – whatever they do. It's been done before. You move on. I just dropped it. He was in the way. If he wouldn't have flopped and been on the floor, he wouldn't have been down there."

You don't like the floppers do you, asked one reporter. "No. It just shows you are giving in. The referees are probably going to go for that every time. You've got to now (flop). It's the only way you can stop a person. It's kind of crazy the refs go for that."

So what did Shaq think of Oden?

"I don't. I'm a Shogun. You can't ask me about a low level ninja. I still have to worry about Yao Ming, Dwight Howard."
Shaquille O'Neal is on comedic and quote fire, and I'm lovin' it! Even if Greg Oden is easy pickings right now, this quote was still classic.
Via Hoopsworld