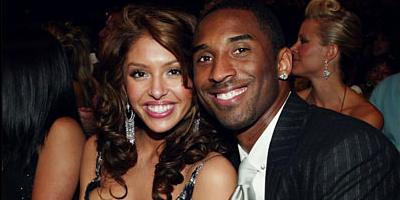 As crazy news week continues to roll on in the NBA. The latest story you can added to the pile is Kobe Bryant and his wife Vanessa being sued by their former maid for wrongful discharge, invasion of privacy and emotional distress and unpaid wages. 
On one occasion, Maria Jimenez claims that Vanessa made her go through "doggy dew" to retrieve a tag from her $690 blouse that was ruined after Jimenez  put it in the dryer, and then Vanessa deducted the cost of the blouse from her salary. 
Gee, you'd think the Bryants could afford another blouse with all the money they've saved feeding their dogs clothing tags?
Anyway, Jimenez also goes on to say that Vanessa called her "lazy, slow, dumb, a f—ing liar, and f—ing sh-t." She also states that while playing pick up games with Kobe, he would refuse to pass her the rock and took way too many shots, costing them many neighbourhood contests.
She also added, that Kobe would shout "Rebounding? I'm going for 61 in the mutha f*cking driveway" on many occasions during these games. Okay — that last part I made up.  So far the Bryant's lawyers, Loeb & Loeb LLP, have only stated the following on behalf of the couple: 
We have learned that a former employee of the Bryants,Maria Jimenez, has filed a complaint against our clients. Ms. Jimenez's outrageous allegations of improper conduct are totally unfounded and patently false. The Bryants intend to vigorously defend against these untruthful allegations and are confident that the baseless nature of the allegations will be proven.
Well, lets just see how this one plays out in court . Until then, we can all wonder what the hell this magic blouse looks like.
Via TMZ