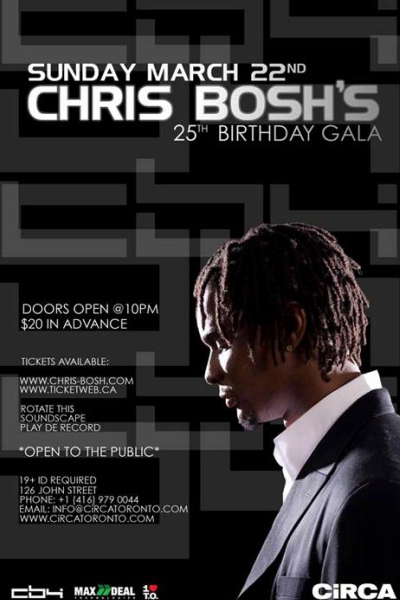 Recently, team USA third baseman and poutine face Chipper Jones sounded off on Toronto during his stay for the World Baseball Classic this week and said:
"We stayed in Toronto for a week and played three games. I don't know if you ever stayed in Toronto, but it's not exactly Las Vegas," the Braves star told the Atlanta Journal Constitution. "To say that we were plucking our eyebrows out one at a time would be an understatement."
Chris Bosh who has "survived" Toronto for more than 6 seasons as a member of the Raptors, then chimed in on Chipper's comments saying.
"Me and Chipper should have hung out," Bosh said at the Raptors' practice on Wednesday. "He should have called me. I'd have shown him a good time." […]Â "I have fun. I have a blast every day," Bosh said. "You have got to feel good to go outside. If you're going to go somewhere, the clouds kind of make you lazy.

"He's in Atlanta, and [baseball players] do spring training down there [in Florida and Arizona], and it's colder here. They're not used to that." [..]Â "You have got museums, restaurants, clubs if you want to go out at night," Bosh said. "There's anything you want to do, shopping. That's what I like to do."
Eric Smith from the Fan 590 who covers the Raptors might have said it best. "You have to be a social invalid to not be able to find something to do in Toronto" and I so agree. Unless your some kinda gentlemen club hatin', multi-ethnic food dodgin', no arts havin', low down pub hater — the experience of visiting Toronto can be like plucking out your eyebrows — for you and the sisters of your congregation Father Jones.
Anyway, Chris Bosh will be celebrating his 25th b-day this weekend in the Big Smoke and knowing Chris, (which I don't) he'll probably be nice enough to talk to the common folk in attendance. Â Sadly, Chipper Jones won't be able to make it because he's busy getting a spray tan, and frosting his tips to go along with his freshly plucked eyebrows.
Via National Post + LA Times