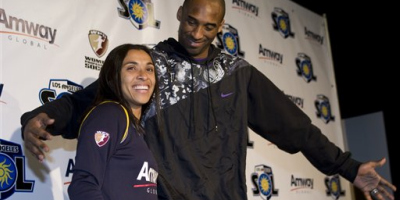 If you don't watch soccer, you've probably never heard of Marta Vieira da Silva. Well, the Brazilian striker is regarded as one of the best soccer players in the world and is now the newest member of the LA Sol of the WPS. She also has a huge fan base worldwide that includes the Lakers Kobe Bryant, who flew in by helicopter to welcomed her to Los Angeles.
Kobe even stuck around after her press conference, to play some footy with the LA Sol. Take note of the penalty kicking skills Shaq.
Video of Kobe Bryant and his soccer skills, after the jump.