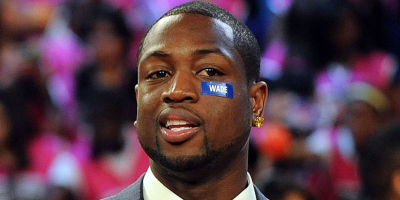 For some reason, pretending to have a disfiguring gash on your face becomes popular every couple years. The Fab 5 did it, Nelly did it and now Dwyane Wade is doing it.
But at least this time, somebody is saving D-Wade from the fashion trend that just needs to die, a Butterfly Collar death!
"We have a rule that players are not permitted to display any identification [promotional or otherwise] during games on their body, hair, etc.," league representative Tim Frank wrote in an e-mail.


Wade said through a team representative before Friday's game: "I don't really have anything to say. I expected it."
Today will be the last time Wade wears his "Band-Ad", and fans will be able to buy a three-pack of his stickers that read  "Wade," "Heat" and "#3" to feel Wade-ish.
Some of the proceeds from the sales will go to Wade's World Foundation.
Via Miami Herald