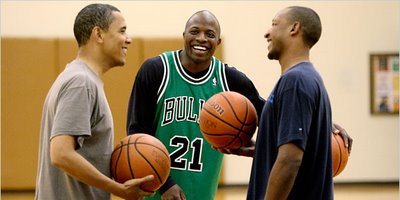 General Manager John Paxson is probably on his way out and the Chicago Bulls have a powerful fan that has experience running large organizations — like the free world. Boy, do I ever have a great idea for the Bulls to attract free agents for at least 4 years and it rhymes with Marack Cobama.
Recently, the Bulls were invited to the White House by the freshest President ever, Barack Obama and some how they need to leverage this high-profile relationship to negotiate with free agents this summer and beyond.
If I was Jerry Reinsdorf, I would hire Barack Obama to be the Bulls GM and have him call free agents on his down time when things aren't going to hell in a hand basket. For the uneducated, that down time is between the six and eleven o'clock news — when you didn't know that things are going to hell in a hand basket.
Anyway, what player in their right mind wouldn't sign with the Bulls if Barack Obama, became the general manager of the Chicago Bulls? Traders to the flag, that's who!
He could call any player at anytime and just be like, "Kobe, Dude! It's the President. How about playing for the Bulls and receiving some new tax breaks too?" or "Hey Phil! If you coach the Bulls again, I'll make you The Secretary of Zen! Plus, I'll let you use Air Force One on weekends to visit the Dalai Lama. This idea is as bulletproof as the career of Britney Spears.
So wake up Chi Town! Barack Obama is your front office stimulus package and if you ask him nicely, maybe he'll even run the Bulls for free if you let him scrimmage with the team every once in a while. I'm just sayin'.