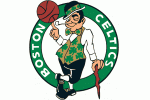 If you are an eastern conference team, you have roughly 2-3 weeks to make a move up the ladder.
"The Celtics are being cautious in treating Kevin Garnett's right knee injury, sending him back to Boston yesterday and shutting him down for the remainder of their road trip and a little bit longer. Danny Ainge said late last night that Garnett has a posterior muscle strain and will be out 2-3 weeks."
The Cavaliers can smell the blood in the water now.
Via Boston.com