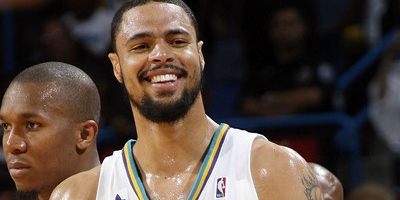 The debate for who gets Tyson Chandler's old locker in New Orleans is over because as it turns out, he'll be needing it — again.
Trades being rescinded are as rare as a third nipple, but you can go ahead and hit Crtl + Z / Apple + Z on the deal that had blogger Tyson Chandler in exchange for Chris Wilcox, Joe Smith and the draft rights to Devon Hardin, the 50th overall pick in the 2008 draft.
"Tyson Chandler missed the New Orleans Hornets' last 12 games before the All-Star break with a sprained left ankle. But that had nothing to do with why he failed his physical with the Oklahoma City Thunder and was thus sent back to the Hornets on Wednesday.
After examining Chandler's left big toe, Dr. Carlan Yates, Oklahoma City's team physician, determined that the risk of re-injury was too great to give Chandler a clean bill of health. He therefore advised the Thunder to rescind Tuesday's trade that landed them Chandler for Joe Smith, Chris Wilcox and the rights to Devon Hardin.
"This is absolutely crazy," Chandler said in a telephone conversation Wednesday night. "I'm super shocked. This is nuts."
Awkward…
Via ESPN