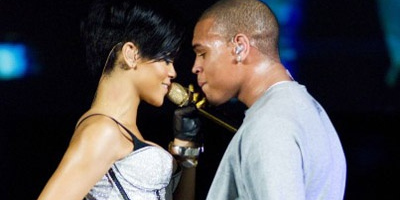 Predictably, singer Chris Brown will skip his NBA All-Star weekend duties in Phoenix. Brown was slated to introduce the players with Shaquille O'Neal before tip-off at Phoenix's US Airways Center and also play in the annual All-Star Celebrity Game Friday.
However, it's become more important to Brown to avoid ending up someones girlfriend in jail instead.
Earlier this week if you haven't already heard, Chris Brown was  arrested for allegedly assaulting his girlfriend Rhianna and judging by what she had to say about the situation, Chris Brown can probably expect to be watching the next couple all-star weekends from a feng shui–less jail cell.
Rihanna has told police that Brown allegedly choked her while threatening to kill her until she lost consciousness (wow!) and her injuries were so bad that. 
"One of the law enforcement people put it this way — the contusions "look like an MMA fighter […] It looked like she was growing devil's horns." Law enforcement sources tell TMZ Rihanna's injuries were severe — two "huge contusions" which swelled up on both sides of her forehead. We're told she also suffered "a bloody lip and nose."
If Chris Brown is found guilty, he could be looking at 10 years in prison and one eternally sore "whispering man eye"! 
What an idiot!