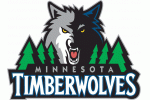 Al Jefferson twisted his right knee in Sunday's loss to New Orleans 101 – 97 in the 4th quarter with less than 28 seconds left in the game. According to the Star Tribune, Jefferson said he heard a "pop" in the knee and said it didn't feel as bad after the game as when he suffered a mildly sprained MCL before training camp started last fall.
"You think the worst all the time," Jefferson said when asked his first thought after he landed on that knee. "Let's hope it's not as bad as it seemed. I couldn't put any pressure on it last time. This feels a lot better. It's nothing like it was last time. I'm going to try to not worry about it until I get my X-ray tomorrow."
The Minnesota Timberwolves are currently 17 -33, and have a snowballs chance in hell of making the playoffs.
UPDATE:  Minnesota Timberwolves star center Al Jefferson is out indefinitely with a torn ACL in his right knee. The team made the announcement Monday after a somber practice. Coach Kevin McHale said Jefferson will likely have surgery to repair the injury in the next week to 10 days.
Via ESPN