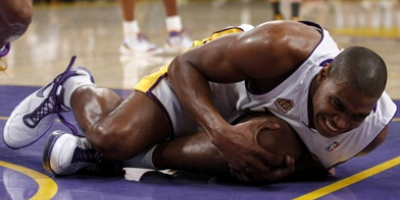 The diagnoses from Andrew Bynum's injury is in and the Lakers will have to do without him for 8 – 12  weeks, because of a  torn medial collateral ligament in his right knee. "It changes our team and the rhythm that we're playing with," Bryant told reporters Monday. "Obviously, we found a great rhythm there with him in the lineup — particularly the last week or so — so we're going to have to make some adjustments."
If Bynum returns in eight weeks, he will have 10 games to prepare for the playoffs, which will have started should he require 12 weeks to fully recover.
"It is better news than I expected to hear because of the shot that I took," Bynum said.
Bynum is the Lakers' third-leading scorer and second-leading rebounder this season, averaging 14.0 points, 8.2 rebounds, and 1.9 blocks.