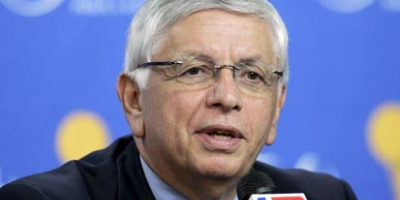 I'm not crazy about the NASA math-lottery project that is the NBA All-Star roster selection process and I really think the NBA should just pick the entire All-Star squad themselves and spare us the confusing leftover numbers of the "vote". In most cases, the typical fan needs to be saved from themselves and in the end the NBA picks the team anyway.
I have no problem with the starters selected because an idiot couldn't have messed that up, but here are some of the leftover numbers that really bug me!
Gilbert Arenas hasn't played a single game this season but he got 635,540 votes. Clearly Washington fans though Agent Zero was bluffing his knee injury. Why was he even on the ballot? Luke Ridnour some how got 1,039,902 votes beating out eventual All-Star reserves selections Joe Johnson by 619, 692 and Jameer Nelson by 685,129. I've never seen a Luke Ridnour jersey other than the one on his back in my entire life.
Unless Luke Ridnour secretly moonlights as an underground Internet brawler, I don't understand how he's more popular than Joe Johnson or Kimbo Slice…ever!
Greg Oden got 48, 675 more votes than Al Jefferson a certified double-double machine and Oden isn't even the best center / power forward on the Portland Trail Blazers!  See LaMrarcus Aldridge. Rafer Alston had 81,511 more votes than Brandon Roy some how and thankfully the league "skipped" on Alston in favor of Roy for obvious reasons.
Even if the fans get it right, the league steps in. Steve Nash finished ahead of Chauncey Billups by 211, 138 votes but Billups was selected as a reserve instead and the Phoenix Suns are hosting the freakin' All-Star game. 
Of course my favorite All-Star eye sore is Yi Jianlian getting 500, 000 votes more than Paul Pierce ( WTF??). Paul Pierce was selected as a reserve in the end (Praise Jebus), but from these numbers NBA fans wanted to see Yi Jianlian more?  
Right…………
Democracy my @ss! Instead of pissing in the wind and telling us it's raining. Stern and the NBA marketing people might as well just tell us straight up, they're picking the squad they want to see.
Judging by the voting numbers, they do it anyways.
Via NBA.com