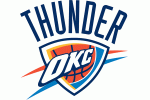 At the beginning of the season it seemed like playing for the OKC Thunder was going to be the worse thing that could have happened to Desmond Mason as a player. Well things just went south of terrible, as according to USA Today and Thunder General Manager Sam Presti. 
Desmond Mason will now miss the rest of the 08-09 season because of a hyperextended right knee. The injury occurred Wednesday night against the Memphis Grizzlies in the 3rd quarter of an eventual 114 – 102 Thunder OT victory and Mason had to be helped off the court by his teammates.
In 39 games this season, Desmond Mason has averaged 7.5 points and 4.0 rebounds.