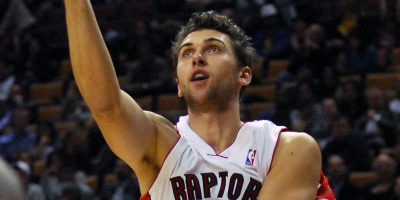 Andrea Bargnani is definitely on fire these days and that could be bad for Jermaine O'Neal, if he really likes Toronto. But, who doesn't want to live in a city without Sneaky Dee's anyway? Anyway, "Il Mago"  has averaged 22.3 points a game, 7.1 rebounds and 1.3 blocks, while shooting 55.7 per cent from the floor and a sizzling 57.8 per cent from three-point land while O'Neal has been injured and the Raptors brass might want to "make room" like the Alkoholics track for development of Bargarni  to continue. According to the Globe and Mail , O'Neal sounds pretty cool about whatever happens, though.
"If I was to get traded, God bless 'em," Jermaine O'Neal said after practice yesterday. "I have a really good agent in Arn Tellum and he keeps me aware of what teams are trying to acquire me. … And [Raptors president] Bryan Colangelo? He's my man. We have a very friendly relationship and I respect his view." 
If the Raptors can pick up a slash and havoc guard or small forward, they need to do a deal now! Otherwise, patience is the key because there is always room for a quality big man on any NBA roster and Jay Triano will find a way to get what he needs out of the former all-star Jermaine O'Neal when he's health.