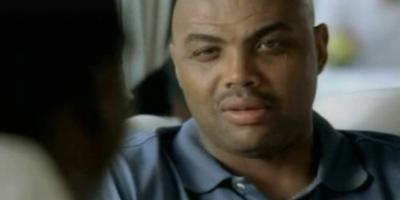 It's not a surprise but, T-Mobile dropped their popular "Fave 5" ads starring Charles Barkley yesterday because of his DUI arrest on the last day of 2008. That doesn't mean they took away his free T-Mobile phone or cancelled his 5 plan and that got me thinking. Who's Really In Barkleys "Fave 5" anyway?
Here's what I came up with and I think I'm pretty close.
5. Charles Oakley
Could you possibly ask for a more decorated wingman than Oak? If Barkley is Maverick, Oakley would definitely make a great Goose!
4. Bill Clinton
Sir Charles and Slick Willy have two things in common. Politics and the need of a really good "burger" no matter to cost. These two could talk for hours exchanging "burger" war stories.
3. A.C. Green 
With all the wild nights that Charles Barkley has, it's good to have somebody in your Fave 5 that's never injured, hungry for a "burger" and is always sober as a stone to be the designated driver every single night. 
2. The "Burger" Lady
He said she was the best evah and he's had groupies since 1984…
1. Any Ex-girlfriend
It's 5am and your finally home. You have vomit on your shirt and two different pairs of shoes on. This is when calling your ex-girlfriend and making a Peanut Butter Lasagna becomes a great idea! The way Chuck parties, this probably happens often. Lord knows, I've been their too.
By the way, Peanut Butter Lasagna only works in drunk theory on drunk paper.