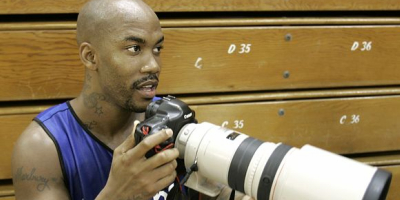 If Stephon Marbury isn't selected as one of Time Magazine's 100 most influential people in the world, for 2009, I'll be shocked! Everything Marbury does is post worthy and he doesn't even try. It just always ends up weird and out of left field without effort. Why isn't he in a lab being studied by scientist 24/7, so he can be cloned and distributed to every single NBA team in the league?
The man is a virtual blogging gold mine!
The latest bit from the world of Marbury, is that he will attend the game tonight in LA between the visiting Knicks and Lakers as a fan.
"Despite being banned from the New York Knicks, Stephon Marbury is strongly thinking about attending tonight's game in Los Angeles against the Lakers — as a fan. […] Marbury was investigating whether he was allowed to buy courtside seats and sit among the celebs."
Fascinating! I absolutely love this move because Marbury would be the highest paid Lakers fan still employed by the Knicks in attendance.
Uhhh, yeah…kinda awkward…just a tad.
Via Ball Don't Lie + New York Post