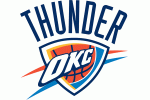 Not that anything can help the Thunder at this point, but losing Chris Wilcox for an extended period of time can't be good.
"Oklahoma City Thunder forward Chris Wilcox will be sidelined as much as two weeks because of a dislocated ring finger on his left hand.
Wilcox, 26, suffered the injury midway through the first quarter of Wednesday's 108-102 loss to the Memphis Grizzlies at the Ford Center.
Physicians later re-set the finger at the McBride Clinic Orthopedic Hospital in downtown Oklahoma City."