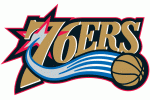 The good news regarding Brand's injury is that it's not his achilles! The bad news is that it's his hamstring.
"After the game, Sixers coach Maurice Cheeks said that Brand had suffered a hamstring injury when he took him out for good with 4:49 left in the third quarter.
A Sixers spokesman, after consulting with team physician Dr. Jack McPhilemy, said Brand reported the injury midway through the fourth quarter. By then, he had been sitting for nearly an entire quarter.
Brand wasn't available after the game, getting treatment with the door to the trainer's room shut. Brand will be re-examined today. He was diagnosed with a strained right hamstring."
Courier Post