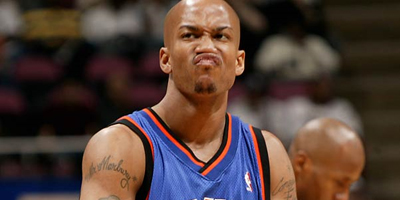 The Spurs are without Tony Parker for a while, Manu too and Jacque Vaughn is starting for the Spurs. Unless this is 1993, Jacque Vaughn starting at the point for your club means you need help and with Spurs GM R.C. Buford looking for a guard and the Knicks hatin' on Marbury, could this be a match if Steph is bought out?  Well according to the New York Post, Marbury certainly thinks so and had this to say when asked.
"Who wouldn't want to play for San Antonio?" Marbury told The Post last night. "To play with Tim Duncan, who would complain about that? That's a great organization, they win championships. They have a nice system and I like (Gregg) Popovich as coach. I can play 1 or the 2. If I was a free agent, yeah."
Chances are we'll see George Gervin suiting up before we see this Starbury saga end.