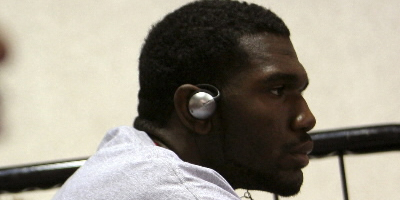 Ever wonder what tracks motivate your favorite NBA stars? Well your in luck, and you'll be surprised…in that order. Â To commemorate the start of the new NBA season, Rhapsody asked this very question to a few NBA players and here are the best (and I mean worst) songs selected by the bunch. They also explain why they like the songs they have choose. This list is ugly like and Anthony Mason free-throw attempt and if you thought *NSYNC was dead, you clearly haven't talked to Greg Oden.
Greg Oden's Playlist - *NSYNC, "Bye Bye Bye" 
Oden just loves the boy bands! 
 "I started listening to it one day. Then one of my boys came in the car and I forgot I had it in and it came on. Then he was like, 'Yeah this was the joint back in the day. [Laughs.]"

Caron Butler's Playlist
In Caron Butlers world, VC only stands for Vanessa Cartlon and not Vince Carter. Â 
Vanessa Carlton, "A Thousand Miles"
"It was in White Chicks. It was a catchy ass song man. You had to listen to it. Believe it or not 93.9 WKYS out here, the number one hip-hop station, was bangin' that sh*t."
Shawn Marion's Playlist
Britney Spears should only be played loudly to drive Osama Bin Laden out of a cave dwelling. Or a Shawn Marion house party.
Britney Spears, "Gimme More"
 "It was hot." 
Juwan Howard's Playlist
Now that Juwan is a member of the Nuggets, he can pursue his figure skating dream and these are his short program songs.
Pussycat Dolls, "Buttons" 
"I just love the song."

James Blunt, "You're Beautiful" 
"That dude is smooth. I love his voice. I think he's that crossover for urban folk, as well as people that enjoy pop and rock. Everybody enjoys that guy."
If you want to view the entire list, it's over at Rhapsody.