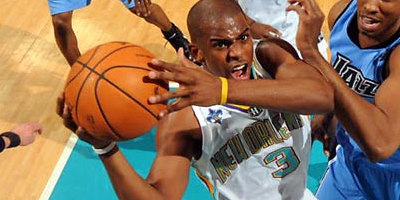 A team-by-team preview of all 30 NBA teams heading into the 2008 – 2009 season, Hooped Up style. Â 
New Orleans Hornets
The Hornets finished red hot before running into the San Antonio Spurs in the second round of the western conference playoffs last year but made a new name for themselves along the way. Chris Paul proved that he is a top 5 point guard in the league and the Hornets rode his back to a changing of the guard in the ole west.  They added James Posey to the line up over the summer which is huge and Tyson Chandler is the new Ben Wallace.  What does that mean for this club this year though?
It means playoffs and home court advantage in the first round, that's what.
Projected Starters:Â PGÂ – Chris Paul /Â SGÂ – Morris Peterson /Â SFÂ – Peja Stojakovic /Â PFÂ – David West /Â CÂ – Tyson Chandler
Additions:Â James Posey, Devin Brown, Sean Marks, Courtney Sims, Jared Jordan
Losses:Â Chris Anderson, Jannero Pargo, Bonzi Wells
Projected Wins: 52+
Team Theme Song:Â The Alkaholics – Make Room
Make room on the western conference mountain top for the Hornets.
Overall
This group is put together well and there are high hopes in New Orleans. David West has arrived to the good power forward club and when he's double teamed Peja Stojakovic will make teams pay. Mo Peterson is a pesky defender and will make it tough for the other teams best perimeter player nightly. If this team can stay healthy Chris Paul can lead them to the promise land and along the way, maybe pick up an MVP trophy.
If you have a "sleeper " in the west amongst the big dawgs to go to the finals, it's probably the Hornets.