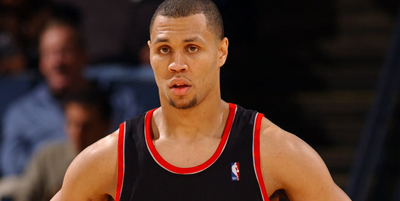 A team-by-team preview of all 30 NBA teams heading into the 2008 – 2009 season, Hooped Up style. Â 
Portland Trailblazers
The young team with plenty of upside just got younger and…upside-er. The slick Rudy Fernandez had arrived to the league, Greg Oden is healthy and will vie for Rookie of the Year, they nabbed sleeper pick Jarryd Bayless in the draft, LaMarcus Aldridge is a power forward stud and Brandon Roy is one of the best young talents in the west and will be an all-star.
Barring an injury bug, it's going to be helloooo playoffs!
Projected Starters:Â PGÂ – Steve Blake /Â SGÂ – Brandon Roy /Â SFÂ – Rudy Fernandez /Â PFÂ – LaMarcus Aldridge /Â CÂ – Greg Oden
Additions:Â Rudy Fernandez, Jerryd Bayless, Nicolas Batum, Ike Diogu, Luke Jackson, Steven Hill, Jamaal Tatum
Losses:Â James Jones, Jarrett Jack, Brandon Rush, Josh McRoberts
Projected Wins:Â 45+
Team Theme Song:Â Â The Cool Kids – '88
Blazers owner Paul Allen purchased the team in 1988 and this season he'll remember all the reasons he made the investment. He'll be doing the smurf in his owners box all season long!
Overall
When this bunch sneaks into the playoffs, nobody will want to play them first. Â At every position on the floor the Blazers have good talent and are deep. Â They haven't been in enough battles to have the experience necessary to go deep into the playoffs yet but with an electric group like this, an upset or two will happen. Plus, Nate McMillan is a better coach than he gets credit for.
The Blazers 2.0 version is officially here!