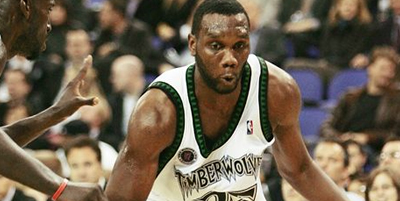 A team-by-team preview of all 30 NBA teams heading into the 2008 – 2009 season, Hooped Up style. Â 
Minnesota Timberwolves
Fresh off a Championship assist to the Boston Celtics, GM Kevin "Santa Claus" McHale wasn't done there.  In the draft he traded talented guards OJ Mayo and Mario Chalmer and went with Kevin Love instead.  I'm sure McHale has received both thank you cards and beer from Miami and Memphis for the gift by now. 
Is there any relief in sight for this franchise?
Projected Starters:Â PGÂ – Randy Foye /Â SGÂ – Mike Miller /Â SFÂ – Corey Brewer /Â PFÂ – Kevin Love /Â CÂ – Al Jefferson
Additions:Â Mike Miller, Rodney Carney, Brian Cardinal, Calvin Booth, Jason Collins, Kevin Love, Nikola Pekovic
Losses: Marko Jaric, Antoine Walker, Michael Doleac 
Projected Wins: 25+
Team Theme Song:Â Â Guns N Roses – Patients
If you play for this squad or are a fan of this squad, you'll need plenty of patients!
Overall
The OJ Mayo trade will especially come back to haunt them in the future but, adding Mike Miller and Rodney Carney wasn't that bad of a move in the short time either. If Kevin Love turns out to be "Kevin McHale light" then the Timberwolves will have a nice pairing with him and Al Jefferson in the front court for years to come. But if you were terrible with Kevin Garnett you'll only be worse without him and this year will be another season of questions for this francaise. 
Better ask Kevin McHale where he gets his sweaters from because it's going to be another long, cold, losing one in Minnesota. Brr!