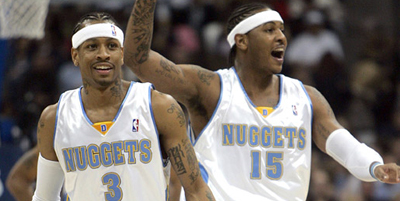 A team-by-team preview of all 30 NBA teams heading into the 2008 – 2009 season, Hooped Up style. Â 
Denver Nuggets
Why would you trade Marcus Camby? Do the Nuggets know of a rebounding and shot blocking center tree in the Colorado Mountains? Â Minus the yeoman contribution of Camby. Kenyon Martin, Nene Halario and Chris Anderson will need to step things up on the glass and play a higher level of interior defense. Carmelo Anthony and Allen Iverson will have to co-exist again on the perimeter and newly acquired defensive specialist Renaldo Balkman will pair with JR Smith to provide some needed energy of the Nuggets bench. Linas Klezia ain't too bad either.
Does coach George Karl and GM Mark Warkentien have a method to their madness, or is this team in for a rude awakening?
Projected Starters:Â PGÂ – Anthony Carter /Â SGÂ – Allen Iverson /Â SFÂ – Carmelo Anthony /Â PFÂ – Kenyon Martin /Â CÂ – Â Nene Hilario
Additions: Renaldo Balkman, Chris Anderson, Dahntay Jones, Sonny Weems 
Losses:Â Marcus Camby, Eduardo Najera, Yakhouba Diawara, Bobby Jones, Taurean Green
Projected Wins: 40+
Team Theme Song:Â Â Rob Base and DJ EZ Rock – It Takes Two
It begins and ends with Melo and AI, and it takes two to make things as right as they can be in Denver. 
Overall
This might be the year that Allen Iverson has to officially defer to Carmelo Anthony as the teams main option.  Hopefully the Nuggets just move AI to the point so he can use his vision to create easy buckets for his team mates more often.  Losing Camby is the big story here, Kenyon Martin and Nene are not the players they were before injury and Linas Kleiza earns his minutes by scoring, not defense.  Without Camby in the middle, the Nuggets will struggle in the west and retooling might be around the corner.
Regardless, this team is always fun to watch because of the Anthony and Iverson duo but the playoffs…kinda iffy.