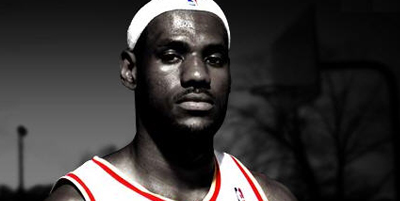 A team-by-team preview of all 30 NBA teams heading into the 2008 – 2009 season, Hooped Up style.
Cleveland Cavaliers
Adding Mo Williams to the picture in Cleveland was huge! Williams will help "The Choosen One" not worrying about setting the table for everybody else to eat and James can concentrate on scoring more.  Williams is a proven distributor and will help the rest of the band members of the LeBron James experience get shots nightly.  But is this enough help to push the Cavaliers over the hump and to the finals in the east?
Well with LeBron James on your roster, anything is possible! (TM Kevin Garnett)
Projected Starters: PG – Mo Williams / SG – Sasha Pavlovic / SF – LeBron James / PF – Ben Wallace / C –  Zydrunas Ilgauskas
Additions: J.J. Hickson, Darnell Jackson, Maurice Williams, Lorenzen Wright, Tarence Kinsey, Jawad Williams
Losses: Joe Smith, Damon Jones
Projected Wins: 50+
Team Theme Song: Rakim – Follow The Leader
The basketball world belongs to LeBron James and the other players just live in it. Just fall in line.
Overall
Adding Williams at the point was great, Delonte West is a hard nosed ball hawk, Varajeo will bring energy off the bench for the front line and Ben Wallace and Zydrunas Ilgauskas should be able to patrol and intimidate inside bucket hopefuls. Sasha Pavlovic and Boobie Gibson are bombers who will…bomb and King James is the best player in the league!
This season goes as far as LeBron James can carry the Calavliers and luckily for them he's got some broad shoulders. If you pick the Cavs as your Cinderella pick for the eastern conference finals nobody would blame you.