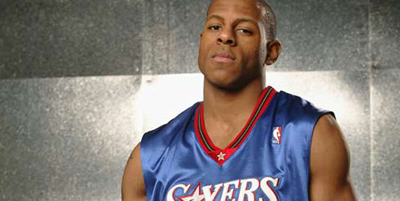 A team-by-team preview of all 30 NBA teams heading into the 2008 – 2009 season, Hooped Up style.   
Philadelphia 76ers
Talk about heading in the right direction!  The 76ers snuck up on everybody last season and found themselves in the playoffs to everybody's surprise.  The backcourt once again looks solid with Andre Miller running the show and Andre Iguodala ready for that next level. Elton Brand is ready to mix it up after a full year on the shelf and Sam Dalembert with help from Theo Ratliff should evolve into a league feared defender.
But are things as good as they look on paper?
Projected Starters: PG – Andre Miller / SG - Andre Iguodala / SF - Thaddeus Young / PF – Elton Brand / C –  Sam Dalembert
Additions:Â Elton Brand, Royal Ivey, Kareem Rush, Theo Ratliff, Donyell Marshall, Jared Reiner, Antywane Robinson, Marreese Speights
Losses: Rodney Carney, Calvin Booth, Louis Amundson, Shavlik Randolph 
Projected Wins:Â 48+
Team Theme Song:Â Â AZ – The Come Up
The 76ers dun came up in the East and can't surprise anybody this season.
Overall
After a small mommy make over, the 76ers are in the eastern conference conversation again.  Thaddeus Young looks like an emerging player and veterans Donyell Marshall, Theo Ratliff  and Reggie Evans sure up any front line.  The 76ers look ready for a second round appearance and if they can catch somebody slipping they'll go further. This is one of my girlfriends favorite teams in the East, so one half of this household is very excited about the upcoming season.
The glory days are back in the City of Brotherly Love and we ain't talking about the Phillies.