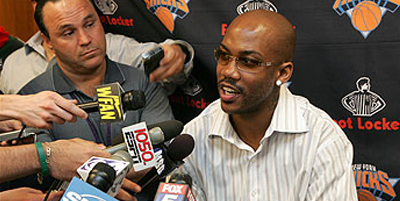 A day without Stephon Marbury news is like a day without sunshine or a day without George Hamilton tanning.  This post from Straight Bangin' now qualifies as the second best thing I've read so far today.  This being the first (hype!) and this being the third (strangely enticing).
Have a read below of the latest Marbury headliner.
"Marbury celebrated his first start with some solid play and a vicious verbal duel with House while House was sitting on the bench. It lasted several minutes and several possessions.
After Marbury drew a foul on Kendrick Perkins and hit two free throws, he turned and screamed at House, from midcourt: "You're a bum!"
When play returned to the Celtics' side of the court, House chirped, "Don't worry about me. You better worry about Ray Allen," whom Marbury was guarding. Marbury shot back, "You're nothing!" then added, "You're caught up in basketball. Get caught up in life."
Marbury is blogger gold every time! I wish after he yelled "You're a bum!" to Eddie House he said "Hell, you aint been hungry since you won that Championship, and told the rest of the Celtics that he'll kill them to death inside o' three quarters!