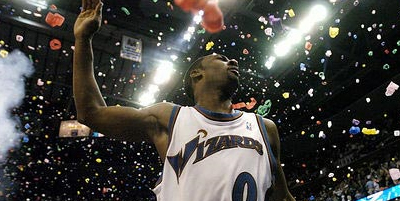 A team-by-team preview of all 30 NBA teams heading into the 2008 – 2009 season, Hooped Up style. 
Washington Wizards
With the East rapidly improving, the Wizards couldn't have picked a worst time to be hit with the injury bug…again.  Agent Zero signed a huge $111 million dollar deal this summer and then promptly announced that he will have his 3rd knee surgery in 18 months. Antawn Jamison also resigned a healthy deal with the Wizards for 4 years $50 million and will now be the focus of the offense while Arenas recoups. The addition of Juan Dixon should help but, with superstar Gilbert Arenas out for an extended period of time the Wizards will have to  have a great second half of the season.
Projected Starters: PG - Gilbert Arenas / SG - DeShawn Stevenson / SF - Caron Butler / PF - Antawn Jamison / C –  Brendan Haywood
Additions:Â Dee Brown, Juan Dixon, Linton Johnson, DerMarr Johnson, Taj McCullough
Losses:Â Roger Mason
Projected Wins:Â 30+
Team Theme Song: Johnny Mandel and Mike Altman - Suicide Is Painless
So far Gilbert Arenas and Brendan Haywood are out till December and Caron Butler has only played 43 games in the last two years so it's only a matter of time for him. 
Overall
With Gilbert Arenas and  Brendan Haywood out till December the Wizards will struggle early in the season and will have to play catch up in the changing East. However, Caron Butler and Antawn Jamison should be able to elevate their roles to keep the Wizards afloat until the return of Agent Zero but for how long.