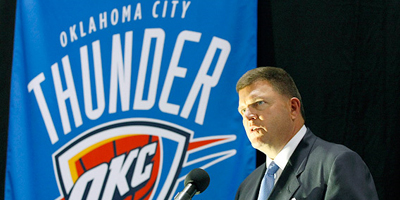 A team-by-team preview of all 30 NBA teams heading into the 2008 – 2009 season, Hooped Up style. 
Oklahoma City Thunder
Seattle losing a team just plain sucks and they will probably have 3.4 million people in Seattle putting a hex on them in OKC. They are not terrible, but they are not better than below average either…uh, ya.  They aren't 1972-73 Philadelphia 76ers 9 wins and 73 losses bad, but it will be a tough season and a lottery pick is already on the way.  On the upside, Kevin Durant will get some serious baptism under fire and Chris Wilcox might get the work load needed to become Ben Wallace with offense. On the down side, Clay Bennett sucks, the logo is terrible and that's just for starters.
Projected Starters:Â PGÂ – Earl Watson /Â SGÂ – Kevin Durant /Â SFÂ – Desmond Mason /Â PFÂ – Chris Wilcox /Â CÂ – Â Nick Collinson
Additions:Â D.J. White, Russell Westbrook, Serge Ibaka, Kyle Weaver, Devon Hardin, Joe Smith, Desmond Mason
Losses:Â Francisco Elson, Luke Ridnour, Adrian Griffin, Donyell Marshall
Projected Wins:Â 10+
Team Theme Song:Â Â The Shirelles – Mama Said
It will be a long and tough season for the players and fans, mama knows!
Overall
The three point shooting of the Thunder is so horrible! Only 4 players on the roster have made one and defensively, they almost give up the most in the league.  This season will be as scary as Robert Swift and the Thunder are destine for a few million lottery balls.  It will be good to see the NBA in a new city but, its to bad that it came at the expense of losing the Seattle Supersonics.