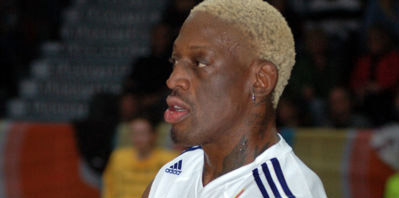 While receiving an honorary degree from his alma matter. Phil Jackson had this to say regarding the best athlete he has ever coached when asked as reported by the OC Register.
"No, the player Jackson called the greatest that he has coached is that wedding dress aficionado and Newport Beach police's favorite basketball bad boy, Dennis Rodman. That's right. No need to rub your eyes.
"He could probably play a 48-minute game and play the 48th minute stronger than the first minute of the game," Jackson told the crowd at UND. "He was that terrific an athlete."
Call me crazy but the Zen Master is bang on with that comment.  So what about Michael Jordan your thinking right? Or are you thinking what about Shaq, Kobe Bryant, Scottie Pippen or Cliff Levingston?  Well all this guys never had the jobs nobody wanted every night for 82 + games every year.  
Why? Well guarding the best small forward, power forward or center every night and grabbing every rebound in the building won't make SportsCenter or get you major endorsements.  
Something that Ben Wallace, Ron Artest, Bruce Bowen and Andrei Kirilenko know about.
So with that, what do you think?
[poll id="27″]
Via SLAM + Ball Don't Lie