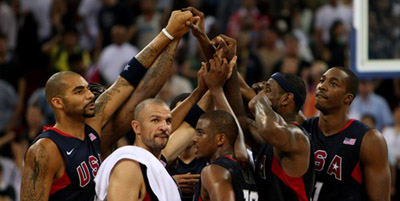 It was mission accomplished for the Redeem Team yesterday, with a 118-107 victory over Spain for the gold medal on the final day of the Beijing Games.  Carmelo Anthony who was one of four members of the current US squad who was also a member of the 2004 Athens squad. Called the Beijing victory a "blessing" .
Carmelo also said "We were at the lowest point. Today, we've done a hell of a job and put U.S. basketball back on top of the world."
Dwyane Wade led the US with 27, followed by Kobe Bryant with 20. LeBron James added 14, and Chris Paul and Carmelo Anthony each had 13 points.
Rudy Fernandez led Spain with 21, Pau Gasol had 21, and Juan Carlos Navarro added 18. Carlos Jiminez scored 12, Marc Gasol 11, and Felipe Reyes 10.
With the bar set high for the 2012 London games, will other countries catch up to the US?