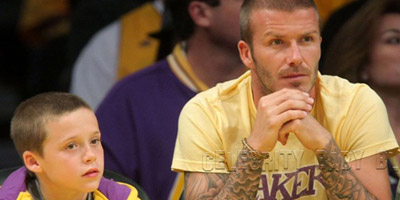 After Josh Childress left the Atlanta Hawks to sign an unprecedented $20 million deal for 3 years with the Euroleague club Olympiacos in Greece, all you've heard is how everybody is leaving the NBA for Europe. Kobe Bryant, LeBron James, Dwyane Wade, Brett Favre and blah, blah, blah.  Most of that talk is straight BS, that was until Kobe Bryant's named popped up in all the get your passport ready madness.  The moment I heard Bryant's name, I immediately thought of one other athlete that has been in the same situation and bolted.
Who? Mike Jones David Beckham, and here are the reasons why Kobe Bryant will leave the NBA in 2010 and put LeBron James on page two of the off season moves.
It Fits
After David Beckham left Real Madrid of the La Liga to sign with the LA Galaxy of the MLS for a monster $250 million contract, It was clear that one player could put an entire league on the map. No other player in Europe could pull this off . Nobody! Since Beckham's arrival to the MLS, every team has prospered and the MLS is now mentioned world wide and games are sold out everywhere Beckham might play.  Kobe Bryant speaks fluent Italian and spent his youth in Italy after his father Joe "Jellybean" Bryant moved the family to Europe to play in Italy.  Oh ya, Kobe Bryant also owns 50% of the team his father played for Olimpia Milano in Italy.  Jordan could not be a player / owner while playing for the Washington Wizards because of retarded league rules, but Bryant could in Italy.
He is the most recognized face in the NBA, speaks Italian, and could sell out buildings for a club he owns everywhere on the planet…hmmm.
To Be Paid In Full
Eric B. and Rakim know the deal and so does Bryant. Josh Childress commanded a $20 million deal for 3 years from Olympiacos to become the highest paid player in Euroleague history. Childress was never an all-star and wasn't even the best player on his team in Atlanta.  Actually, I have never even seen a Josh Childress jersey for sale anywhere. When Beckham signed with Los Merengues for $41 million for 4 year, he wasn't the best player on his team either. There was Zinédine Zidane, Luís Figo, Ronaldo, Roberto Carlos and Raúl González.
In the MLS Beckham is the man no arguement, just like Bryant would be in Europe. No James or Wade talk over there. The day european teams come knocking, Bryant could demand a kings ransom (thanks to Childress) like Beckham and would become the highest paid player in Europe by a long shot.  Who cares about Jordan's league records when you can have Beckham's financial records.
Also in Europe, there is no salary cap and the Euro is stronger than the American dollar. Everybody is the New York Yankees across the pond; especially in 2010.
Perfect Age
With a big european payday  on the horizon, Bryant will definitely not sign an extension to his contract that expires in 2010, as leverage. Especially since LeBron James will also be a free agent in 2010 and will receive a huge deal.  By that time Bryant will be 31 years old with 14 NBA seasons under his belt. Before Beckham came to the US he had 14 UEFA seasons under his belt too  and was 32 years old.
Old enough to be the respected face of a league and still young enough to produce.
Rock Star Status
When Beckham arrived to the US it was the athletic British invasion and Beckham mania began to roll heavy. We all got a taste of it when the US hosted the World Cup in 1994.  It was also then that Beck's said he would play in the US for the first time. Coincidence that we hear the same the same pond leaping talk at another International event in the Beijing Olympics? Did you see people mobbing Kobe Bryant in China?  He was freakin' Paul McCartney and John Lennon!
He was McLennon!
Ever since the "Denver mess" the US has not embraced Bryant the same way.  It's all James, Wade and Anthony in the US. In Europe it would be Kobe Bryant all the time, everywhere, everyday.
Plus Nike could sell an obscene amount of sneakers overseas with Bryant in a global spotlight.
Both these guys now live in the same city and Bryant is a huge soccer fan. Â Do you think he hasn't already talked to Beckham about a move to Europe? If Kobe Bryant stays in the NBA, it is only because there wasn't enough Euros on the table. LeBron James bolts first or we learn David Beckham is a hell of a basketball player too.