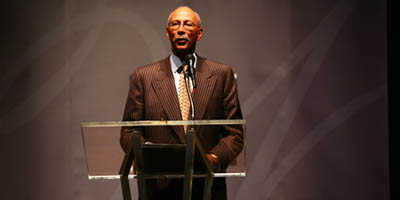 Businessman and Hall of Famer Dave Bing is getting closer to announcing a campaign for Detroit mayor.
Bing told the Associated Press on Wednesday that the state police investigation into a possible assault charge against Detroit Mayor Kwame Kilpatrick has pushed Bing into seriously considering a jump into next year's campaign.'
"It's one more nail in the coffin," said Bing, the CEO of the Detroit-based Bing Group.
Bing told The Detroit News Wednesday that he's much closer to running for mayor in 2009.
"I've been thinking about it more than I did a few weeks ago," he said. "I'm a lot closer."
Bing said Kilpatrick's legal and image troubles, as well as a federal probe into a sludge recycling contract and Detroit's underachieving public schools, are hampering the financially strapped city's ability to attract business, investment and people.