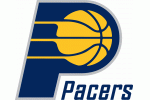 Larry Legend is seriously not joking around about revamping the Pacers with the quickness! 
While talking about Thursday's NBA draft, Bird told reporters he has some players that he's not happy with.

He said the team needs to draft a point guard and added he has a point guard for sale. That seems to imply, Bird is willing to get rid of Jamaal Tinsley.
AP