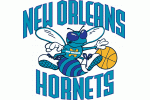 New Orleans Hornets guard Rasual Butler has been charged with flashing a loaded gun near a South Florida nightclub.
A witness told investigators that Butler pulled out a gun near a South Beach club early Monday, according to a Miami Beach police report. Butler was sitting in an SUV when officers arrived and found a loaded gun in the vehicle.
"We take these matters very seriously and we'll work with all appropriate authorities," Hornets general manager Jeff Bower said in a statement.
Butler faces charges of carrying a concealed firearm and improperly displaying a firearm. He was released on $6,000 bond Monday afternoon.