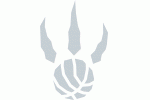 Boy, this whole Garbajosa experiment really went south in a hurry.  After about a season and a half it looks like Jorge Garbajosa's time with the Toronto Raptors is coming to a close.
It appears clearer than ever that Jose Calderon will be back with the Toronto Raptors. It's increasingly certain his friend Jorge Garbajosa will not. According to Spanish media reports, the NBA club is negotiating a buyout of the final year of Garbajosa's contract, worth $4.25-million (U.S.), which would officially end a relationship that started with considerable promise but effectively ended with a severe leg injury suffered in March of 2006.
To bad about his injury, he was what the Raptors needed and still need.