This will be an interesting off season to say the least!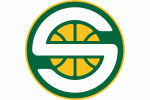 Sonics forward Chris Wilcox was arrested on Saturday in North Carolina and charged with two counts of carrying a concealed weapon, Percy Allen of the Seattle Times is reporting.

"Chris has made us aware of the situation," Sonics spokesman Tom Savage said. "We are in the process of gathering more information and we'll have further comment at the appropriate time."

It is believed that Wilcox was a passenger in the car, with the driver also charged on the same charges.