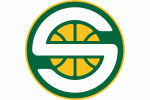 Who ya got? The Thunderbirds, Barons, Outlaws or Thunder
With The Oklahoman's NBA Team Name Contest now whittled down to the Final Four nicknames — Thunderbirds, Barons, Outlaws and Thunder — opinions still vary on what the team should be called. But some, like Moody, are among a growing segment who thinks black and gold could work as the team colors no matter the nickname or mascot. "It's just different," said Moody, who designed the black and gold "Oklahoma City Barons" jerseys that appeared on the cover of The Oklahoman's sports section on April 14 as one of hundreds of reader-designed jersey submissions. But unlike the Pittsburgh Steelers, whose team colors are athletic gold and black, the color scheme used for the popular Barons design is varsity gold and black, closer to the shade found in Notre Dame and George Washington's school colors.
Sucks to be a Sonics fan right now in Seattle!