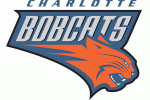 Today, some future Charlotte Bobcat rookie, shed a tear and didn't know why.  The reason for the tear is Larry Brown has just been named the head coach, of the Charlotte Bobcats and drinks the blood of rookies with his Metamucil.
Larry Brown has reached an agreement to return to the NBA as coach of the Charlotte Bobcats, the Observer confirmed early today. The source, a longtime NBA executive, said Brown came to a final decision Monday to succeed Sam Vincent as coach of the Bobcats.
For a young team with a few vets Larry Brown just seems like a bad idea.  I'm just sayin.