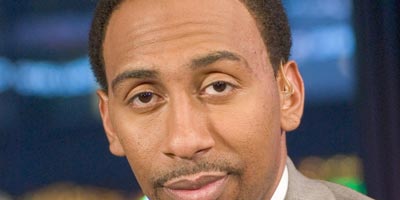 The "A" that I'm referring to is the "A" in ESPN's Stephen A. Smith's name.  Over the weekend Stephen A. Smith compared Chris Bosh to Manute Bol,calling him soft.  Really? Comparing Chris Bosh to Manute Bol is like comparing one of Stephen A. Smith's shows to any other show not canceled.  I would watch "Big Brother" before I would watch one of his shows and that show stinks! Seriously who really cares what this guy has to say about anything?
Raptors' big man Chris Bosh swung back at Stephen A. Smith after Smith compared Bosh to former NBAer Manute Bol on Friday, the Toronto Star is reporting.

Smith criticized Bosh for playing soft and being unable to lead his team to any significant level of success, but it was not this which irked the All-Star, it was bringing Bol's name into the criticism.

"If you have respect for someone, you expect that same respect back," Bosh said yesterday. "If you're a classless person like that, I mean, I guess that shows how you are, what kind of person you really are."

"If you criticize basketball, criticize the game, criticize the team but don't do anything personal."
I'm sure Smith's comments were only made to try to be relevant and get another show… so it can be canceled.