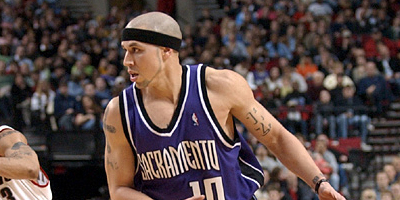 Mike Bibby
Like fellow NBA star LeBron James, Bibby has been known to nervously bite and chew his nails during games. When relegated to the bench for a breather during games with the Sacramento Kings, Bibby would obsessively pick at his nails until he stumbled across a better solution: using fingernail clippers on the bench. The clippers became his superstition, and whenever Bibby came to the bench for timeouts, someone would hand him a set so he could go to work on his nails.
Caron Butler
When most of us want a glass of something heavily caffeinated that fluoresces green, we can just reach for a Mountain Dew. Sadly for Washington Wizards' All-Star small forward Caron Butler, he can't do the Dew whenever he wants anymore. As Butler told Dan Steinberg of the fantastic D.C. Sports Bog, he would guzzle a two-liter bottle of the sugary soda before and during every game dating back to his All-American career at the University of Connecticut. Butler would throw down half the bottle before the game, then finish it off at halftime. That is, until the Wizards clamped down and forced him to switch to a more traditional sports drink, water.

Jason Terry
Bibby and Terry, college teammates at Arizona, started another odd superstition while playing for the Wildcats. The restless pair slept in the uniform shorts the night before each Arizona game on the logic that it would make the game feel like it was starting sooner. When Terry broke into the NBA with the Atlanta Hawks, he decided to start wearing the shorts of the next day's opponent, instead. This ritual is fairly tenuous, though, as it requires Terry to procure a pair of uniform shorts from each opposing NBA team. Although his network of connections with equipment managers and former teammates has helped him out, he had to wear Mavericks shorts before each game of the 2006 NBA Finals since he couldn't find a pair of Heat trunks.