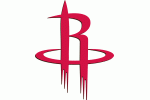 The Houston Rockets' 21st consecutive victory gave them the second-longest winning streak in NBA history and a share of first place in the Western Conference.Tracy McGrady scored 30 points and the Rockets beat the Charlotte Bobcats 89-80 on Friday night to break a tie with the 1970-71 Milwaukee Bucks for the second-best victory streak in league history. Only the 1971-72 Los Angeles Lakers, who won 33 in a row, had a longer streak.
The win also sets up Sunday's showdown with the current Lakers at the Toyota Center. They're both 45-20, the best records in the West.
As the final seconds ticked off, Dikembe Mutombo waved his arms, urging the capacity crowd to stand and cheer. McGrady simply stood at the free throw line near the Rockets bench, a tired grin on his face.
When the buzzer sounded, red streamers rained down as the crowd started chanting "M-V-P!" for McGrady.