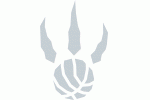 Chris Bosh was only supposed to miss a few games for the Raptors, but he continues to be sidelined with a lingering knee injury, according to the Toronto Star.
"He's made some progress and it's a little slower than obviously he and everyone would like," said Bryan Colangelo.
"Was there concern last year when he had something similar? Yeah, there's always concern. You want your players healthy, especially your best player," Colangelo added.