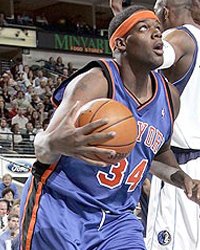 Apparently Bulls coach Scott Skiles' remarks last week, when he said Eddy Curry is "having a very good year but it seems like he's being put on a pedestal awful quickly here," lit a fire under the Knicks' 6-foot-11, 285-pound center.
Curry is fuming at his former coach for demeaning his breakout season, calling Skiles "very disrespectful."
Curry's season may have ended last night in the Knicks' Garden finale. He strained his right hamstring in the first half and did not return in a 104-95 loss to the Nets.
With one game left, the Knicks fell to 32-49 and could reach 50 losses for the second straight year. Afterward, coach/president Isiah Thomas met with owner James Dolan for 15 minutes. Thomas said it was hardly a meeting.